by VJ Miller Sr.
Sometimes You Need A Different Idea:
I had what I thought was a good idea for a series of books. Each book would contain one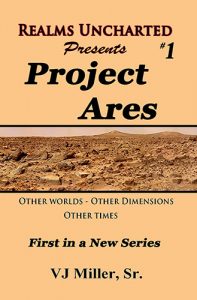 novella of between 18k to 20k words. There would also be Bonus material including a look at the next issue with an excerpt plus other useful info.
Since I am retired and live on SS there is no budget for marketing by a professional so I was obligated to do it on my own as best I could. I have accounts with LinkedIn, Twitter, G+ and on Facebook; even having my own page which I call Realms Uncharted. I even found I could make my own website inexpensively, this one.
I made it my mission to get followers who were authors and/or avid readers along with various author groups where I could find them.
On my website I wrote posts announcing my intention to create the new series under the Realms Uncharted Presents banner. I was all over the social media and writer's groups to tell everyone about the series; in fact I repeated the announcements under various tag lines dozens of times to entice people to read my posts. With all the thousands of possible people who saw the announcement I only got a handful of "Likes" which are absolutely useless in the scheme of things. Of all the possible thousands not one person had the curiosity to click on the LINK and go to my site and read my post.
I know that no one ever went to my site because I have a plugin that tracks who visits my site. At the end of my posts I asked visitors to sign the Guestbook before they left. I'd planned to give everyone who signed the book and left their e-mail addy a free PDF of my first issue. This I couldn't reveal because it would not be a true test of who visited and read anything, just those who wanted something free. My first novel, "Mask of the Crime Czar" I set up a giveaway on Kindle offering a free download. There were over 450 hits on the free e-book and out of all that I got only three reviews; and we know Amazon depends on the amount of reviews to set the rankings of any book.
I was led to believe that, more often than not, authors had an interest in what other writers were doing; especially something new or different, but I am beginning to believe that they are only on social media to sell their book and nothing else. Yes, I am guilty of doing likewise but I was also led to believe that anyone could build buzz for their book by engaging other authors in conversation and an exchange of ideas. That does not work too often; at least not in my case. My only claim to fame is that Max Allan Collins once took the time to go to my website and thank me for the review I gave to his book. WRONG QUARRY.
Since I could not start any word of mouth about my planned series I decided to discontinue any more work on it even though I had the first issue ready to submit and the next five either half written or at least plotted out. Then I re-read the dedication I'd given to the first issue:
The first book in this series is dedicated to, Ruth Dubois, My best friend, soul mate and full time muse who went home to God much too soon. It is in her memory that I am able to write this series.
I truly was only able to write this series because she believed I could do it and anything else I put my mind to and that's why I am going on with the project. So what have I decided?
I've set up my book as a paperback on Creatspace https://www.createspace.com/6531093 and when I am able to fit it in the budget I will offer it as a free donation to local libraries; at least there I can be sure that visitors will be looking for something new to read. And when I can I will donate to other libraries around the country. It will take longer this way to get the word out but one has to do what they have to do. I might even set up a giveaway on Goodreads but in the foreseeable future THERE WILL BE NO E-BOOK.
I've been splitting my time, either writing or engaging in fine art painting which I am good at. Only time will tell if I got it right.
Please sign the Guestbook before you leave.