by VJ Miller, Sr.
Enter to Win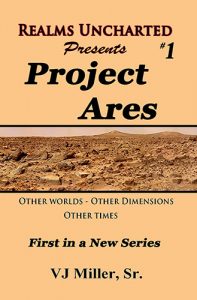 Beginning at midnight tonight, September 13th, and ending October 13th, you can enter on Goodreads your chance to win a signed copy of my latest book, Realms Uncharted Presents – Project Ares, Issue #1.
This first issue of my ongoing series kicks off with a mystery surrounding the first mission to go to Mars. A strange little inventor shows up at NASA one day to offer his services. He's turned away because he does not have an appointment but convinces another person entering the gate to take samples that he has created.
Things happen swiftly and the little inventor becomes part of the team, too swiftly but no one seems to ask how or why? He has lofty ambitions to accelerate a manned mission to Mars but 9/11 could bring all those plans crashing down.
Who is the little inventor and what power does he seem to have over everyone, and what is his real mission?
Click the Goodreads icon at the top of the column to the right to enter for a chance to win a free issue. Each issue of the series is planned for a semi-monthly production and will only be in paperback for the foreseeable future but that could change.
I regret this giveaway is only open to the United States and Canada.
Please sign the Guestbook before you leave. I will be running a giveaway side by side with the Goodreads giveaway. Two lucky people will get a signed edition of my book; select others will get a PDF of the book no matter where in the world they are.