by VJ Miller, Sr.
Announcing My New Ongoing Series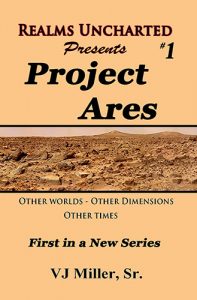 First from Kindle and soon after in PB from CreateSpace
The books will run under the banner of Realms Uncharted Presents. Each book will contain one novella of 18k to 20k words. Most readers will be able to finish each book in a short afternoon.
My plan is to offer each book on a semi-monthly basis; sooner if the demand is there.
Named for my website, www.realmsuncharted.com the story inside could be a Thriller, Action Adventure, Mystery, or Space Opera from another world – another dimension – or another time or any combination of the above. Continue reading Realms Uncharted Presents →